Events
February 16, 2018 on the basis of JSC «ONPP «Technology» named after A. G. Romashina» the general annual meeting of the Association «Cluster of aerospace technologies of polymer composite materials and structures of the Kaluga region» was held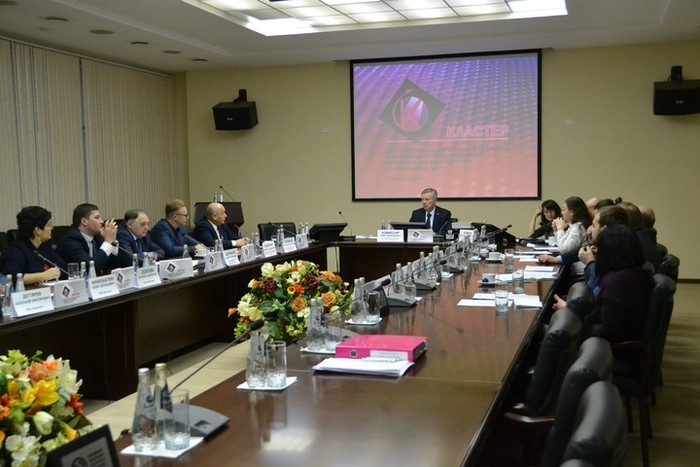 February 16, 2018 on the basis of JSC "ONPP" Technology "named after A. G. Romashina ", the general annual meeting of the Association" Cluster of Aerospace Technologies of Polymer Composite Materials and Structures of the Kaluga Region "was held.
The meeting summed up the activities of AKOTECH Association for 2017 and a work plan for 2018 was outlined.
In the reporting year, 3 general meetings of the Association members and 2 extended meetings were held, in which more than 150 people from 35 organizations, institutions and authorities took part.
With the support of JSC Innovation Development Agency - Center for Cluster Development of the Kaluga Region, in 2017 two business plans for joint cluster projects were developed, 3 round tables, 2 training seminars were held, and articles in the media were published.
In 2017, a cooperation agreement was concluded with the Main Department for Research and Technological Support of Advanced Technologies for Innovative Research) of the Ministry of Defense of the Russian Federation.
In 2018, work on joint projects will continue; preparation of business plans for joint projects; work with partners in the framework of concluded cooperation agreements; attracting new members; conducting trainings for employees of the enterprises of the Association; holding round tables; participation in exhibitions, forums, conferences; holding information companies in the media; organization of business visits to enterprises of the Association, etc.
In addition, at the meeting, the AKOTECH Association included a new enterprise - Raster-Technology LLC (Obninsk) and a decision was made to create a Scientific and Technical Council of the Association, the functions of which will include search, expert evaluation of civil projects topics and organization of effective intracluster interaction for their implementation.