Events
On October 16, 2019, a round table discussion was held on «Methodology for the implementation of cluster projects taking into account the specifics of the activities of AKOTECH Association»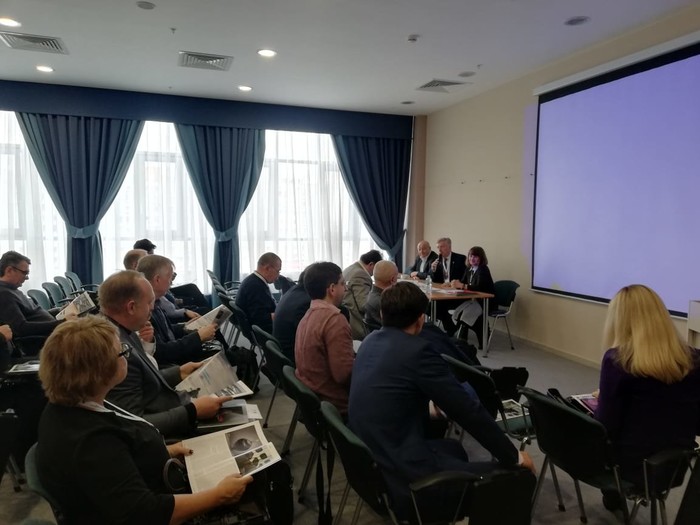 On October 16, 2019 at 15:00 a round table was held on the topic: "Methodology for the implementation of cluster projects taking into account the specifics of the AKOTECH Association. The round table was held as part of the work of section No. 3 "Innovative processes and information technologies" of the XXII International scientific and technical conference "Designs and technologies for obtaining products from non-metallic materials".
The purpose of the event was to discuss issues related to the implementation of cluster projects, as well as to exchange experience between the residents of AKOTECH Cluster - representatives of small and medium-sized enterprises with outside specialists and experts - potential cluster members.
Welcoming remarks were made by Anatoly Alexandrovich Sotnikov, Director General of AIR JSC, in which he spoke about possible support measures for small and medium enterprises.
During the round table, three reports were also presented:
«Specificity of the Cluster of Composite and Ceramic Technologies (AKOTECH) in Resident Development». Speaker: Koval Oksana Valeryevna, Executive Director of AKOTECH;
«Intracluster innovation project: «Creating a prototype of a new generation robotic all-terrain vehicle for the development of the Arctic». Speaker: Sergey Vladimirovich Ivanov, Director of OKB Russian Engineering LLC, AKOTECH resident;
«Intracluster industrial project: «Cluster of products from composite materials and railway equipment of the Kaluga region» Speaker: Shcherbakov Valery Tikhonovich, Chairman of the Board of Directors of the Polet group of companies, AKOTECH resident.
At the end of the event, there was a discussion and exchange of experience in the implementation of projects for the creation of products from composite materials with representatives of organizations: JSC OKB Novator, JSC Polotsk-Steklovolokno, LLC OTK, LLC ROSIZOLIT, etc.