Events
December 15, 2017 on the basis of SE «Polet» the opening of the «Regional exhibition of products from composite materials, including for housing and communal services, urban and road construction» was held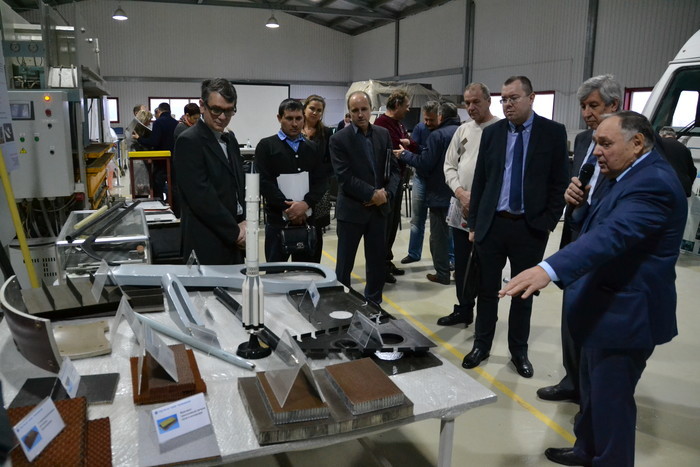 On December 15, 2017, on the basis of the Polet state enterprise (Obninsk, Kievskoye Shosse, d. 57), the opening of the "Regional Exhibition of Products from Composite Materials, including for Housing and Public Utilities, Urban and Road Construction" was opened with the participation of representatives of the Ministry of Economic Kaluga Oblast Administration of Obninsk, Borovsk and enterprises of the Kaluga region, including Composite-PRO LLC, Erga LLC, Porsche-Modern Materials LLC, Stimul Group LLC, NPO Geoenergetika LLC, LLC Turbo-Bet. The organizer of the exhibition was one of the founders and an active participant in the AKOTECH Association - SE "Flight" (LLC "Flight Service", LLC "OTsMK", LLC "ITSKomKon"). The opening of the exhibition took place with the active organizational and financial support of the participants of the Association "AKOTECH": JSC "ONPP" Technology "named after A.G. Romashina "and JSC" Agency for Innovative Development - Center for Cluster Development of the Kaluga Region "(AIRCO).
During the event, V.T.Shcherbakov, Chairman of the Board of Directors of Polet State Enterprise, conducted a tour of the exhibition and the production site of Polet State Enterprise. During the tour, invited participants and guests were able to get acquainted with the product samples of the current members of the exhibition, as well as with the features of the production of SE "Polet", including vacuum molding of panels reinforced with thermoplastics, etc.
The event ended with a round table discussion on the topic: "Trends and prospects for the development of the composite materials market. Issues of using composites and products from them in the field of housing and communal services, urban and road construction. " The meeting addressed issues on the use of composite materials in construction, utilities and energy, as well as the problems of developing structures made of composite materials.