Events
March 3, 2015 at the State Scientific Center of the Russian Federation "ONPP" Technology "the annual general meeting of the Association" Cluster of Aerospace Technologies of Polymer Composite Materials and Structures of the Kaluga Region "was held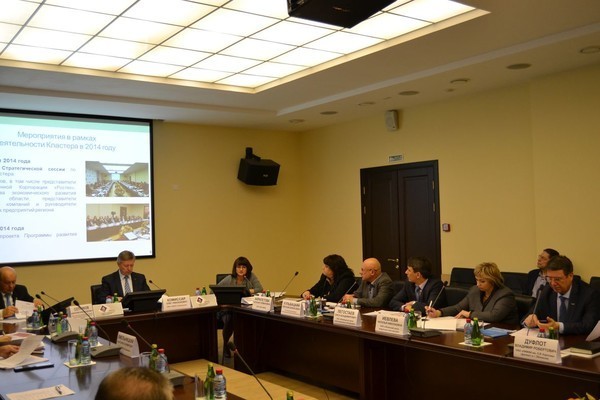 The State Scientific Center of the Russian Federation "ONPP" Technology "hosted the annual general meeting of members of the Association" Cluster of Aerospace Technologies for Polymer Composite Materials and Structures of the Kaluga Region "(AKOTECH Association). The meeting participants approved the report on the results of the Association's activities for 2014, submitted by the Executive Director O. Koval, and also considered a number of topical issues.
During the discussion, the prospects for cooperation and mechanisms for increasing the effectiveness of interaction were discussed. In particular, the introduction of additional key indicators (the volume of products produced by the enterprises of the cluster, the amount of R&D, the volume of work in the framework of import substitution, etc.) will allow for more reliable and clear assessment of the cluster. Another topic for discussion was the proposal to join the Eurasian Partnership of Aerospace Clusters (EPAC), which was received by the association. Joining an organization that promotes cluster cooperation in the Eurasian economic space is considered appropriate.
"The approach to the formation of the cluster, its composition, planning and building the work itself indicates the creation in our region of a full-fledged, efficient association capable of representing and protecting the interests of its members. The system, which includes all stages - from training specialists and research work, to the production of high-tech products and their promotion, as A.Sotnikov, director general of the Kaluga Region Innovation Development Agency, rightly noted in his speech, has every chance of success, " said in his speech the general director of ONPP "Technology" O. Komissar.
In addition, AKOTECH included four new members: the Engineering Center for Composite Structures, NP Kaluga Laser Innovation and Technology Center, Obninsk Center for Modular Structures, and IATE MEPhI. By the end of this year, according to the Association Development Program, it is planned to increase the number of participants to one and a half dozen.