Events
On June 30, 2015, a cooperation agreement was signed with the European Ceramic Cluster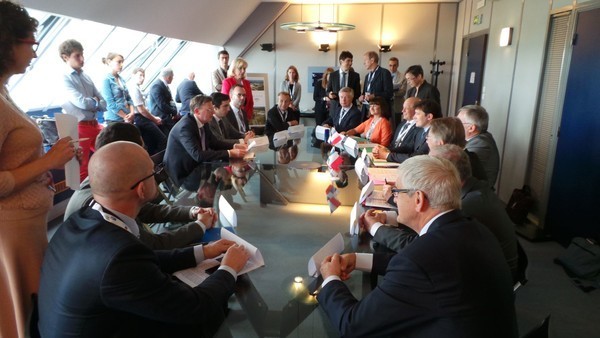 The leadership of the State Scientific Center of the Russian Federation ONPE "Technology" as part of the delegation of the Kaluga Region visited Limoges, Limousin Province (France). During the working visit, a tripartite cooperation agreement was signed between the Agency for Innovative Development of the Kaluga Region, the European Ceramic Cluster and the Association for the Cluster of Aerospace Technologies for Polymer Composite Materials and Structures of the Kaluga Region (AKOTECH Association), the anchor of which is Technology ".
The main purpose of visiting the province of Limousin was to discuss with French colleagues the prospects for expanding partnerships between the Kaluga region and the Limoges metropolitan area. Along with the implementation of joint projects in the field of development and production of ceramic products for the aircraft industry and other sectors of the civil industry, the Obninsk enterprise is of great interest to the possibility of advanced training of specialists in specialized educational institutions of France and various aspects of joint scientific work.
"The signing of the trilateral agreement was the result of continued work that began more than ten years ago. Such international cooperation promotes not only a mutually beneficial exchange of knowledge, but also significantly enhances the enterprise's competitiveness in the foreign market of high-tech products, "said General Director O. Komissar.
The creation of another high-tech cluster in the Kaluga region aroused great interest among the host country. In his opening remarks, the President of the Limousin Provincial Council, Mr. Gerard Vandenbrook, noted the dynamic development of the Kaluga region in recent years, which, in his opinion, is an indisputable merit of the open investment policy of Governor A. Artamonov, as well as the powerful economic and intellectual potential of the region.